Baby Shakespeare is the 4th Baby Einstein video ever made. Most people thought it was made in 2000 but Julie Clark, the founder of Baby Einstein said it was 1999.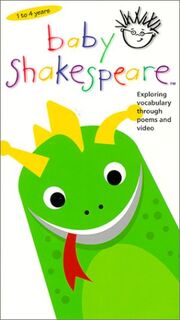 In late 2001 they changed the cover of the VHS from Bard the Dragon to a lizard.
Its DVD version was first released in 2000. Here is the version chart.
1999 VHS
2000 DVD/VHS
2001 VHS/VHS with CD
2002 DVD/VHS/VHS with CD
2002/2003 DVD/VHS/VHS with CD
2004 VHS/DVD/VHS with CD
2004/2007 DVD
2008 10th Anniversary DVD
2010 Discovery Kit
2012 Discovery Kit DVD
Characters
Edit
Bard The Dragon
Easter The Rabbit
The Tourette's Bull
Betsy The Cow
Stripers The Tiger
Quackumus The Duck
Bubba The Bird
Jane The Monkey