Baby Shakespeare is the 4th Baby Einstein video ever made. Most people thought it was made in 2000 but Julie Clark, the founder of Baby Einstein said it was 1999.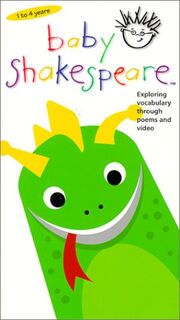 In late 2001 they changed the cover of the VHS from Bard the Dragon to a lizard.
Its DVD version was first released in 2000. Here is the version chart.
1999 VHS
2000 DVD/VHS
2001 VHS/VHS with CD
2002 DVD/VHS/VHS with CD
2003/2002 DVD/VHS/VHS with CD
2004 VHS/DVD/VHS with CD
2004/2007 DVD
2010 Discovery Kit
2012 Discovery Kit DVD
Notable Cast
Edit
Sunny the Bunny
Tooter the Purple Cow
Cud the Cow
Tiger
Quackumus the Duck
Boss Bluebird
Ad blocker interference detected!
Wikia is a free-to-use site that makes money from advertising. We have a modified experience for viewers using ad blockers

Wikia is not accessible if you've made further modifications. Remove the custom ad blocker rule(s) and the page will load as expected.