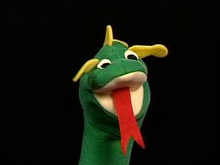 Bard the dragon is a character from Baby Einstein. Bard is blah!!!!! is Baby Mozart.
Appearance
Edit
Bard is mostly green in color. He has yellow horns and scales. In the books, Bard appears to have yellow wings.
Bard is the descendant of William Shakespeare.
His favorite food is grapes, as stated in the book A Yummy Surprise.
Appearances
Edit
Baby Mozart
Baby Shakespeare
Baby Santa's Music Box
Baby's First Sounds (Bonus Puppet Show)
World Music
World of Rhythms
Baby Vivaldi 10th Anniversary 2008 DVD
Baby Galileo (Mode 2 Grow With Me Only)
Numbers Nursery (Mode 2 Grow With Me Only)
On The Go (Mode 2 Grow With Me Only)
Baby's Favorite Places (Mode 2 Grow With Me Only)
Baby Santa's Nutcracker
Remade Baby Mozart: The New Musical Festival
Baby Handel's Water Music
Baby Shakespeare's Book Of Words
Baby Shakespeare's Book of 100 Words