Vincent Van Goat is a Baby Einstein character who hosts Baby Van Gogh and World of Colors.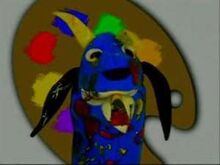 Appearance
Edit
Vincent Van Goat is blue with black ears. Like Bard the dragon, he has yellow horns. In the books and on the cover of Baby Van Gogh, Vincent has a bandaged ear much like his descendant Vincent Van Gogh. He often appears to be smiling.
Vincent Van Goat is the descendent of Vincent Van Gogh.
Vincent Van Goat has a brother named Theo Van Goat and a girlfriend named Vivian Van Goat.
His favorite food is bananas, as stated in A Yummy Surprise.
Appearances
Edit
Ad blocker interference detected!
Wikia is a free-to-use site that makes money from advertising. We have a modified experience for viewers using ad blockers

Wikia is not accessible if you've made further modifications. Remove the custom ad blocker rule(s) and the page will load as expected.